1. I may sit in my we_e cro_o hoose
At the rock and the reel t_ae toil fu' dreary
I may think on the d_ay tha_t's gane
A_nd sigh a_nd sob ti_ll I grow weary

I ne'er could brook, I ne'_er could brook
A foreign loon tae o_wn o_r flatter
But I_ wi_ll sing a_ ranti_n' sa_ng
Tha_t day oo_r King co_mes ower the water. (twice)

2. I hae seen the guid auld day
The day o' pride and chieftain's glory
Whan Royal Stuart bare the sway
And ne'er heard tell o' Whig or Tory
Tho' lyart be my locks and grey
And auld has crook't me doon, what matter
I'll dance and sing ae ither day
That day oor King comes ower the water

3. Gin I live tae see the day
That I hae begged and begged frae heaven
I'll fling my rock and reel away
And dance and sing frae morn till even
For there is ane I wadna name
Wha comes the beengin' byke tae scatter
And I'll put on my bridal goon
That day oor King comes ower the water

4. Curse on dull and drawling Whig
The whining, ranting, low deceiver
Wi' heart sae black and look sae big
And cantin' tongue o' clishmaclaver
My faither was a guid Lord's son
My mither was an Earl's daughter
And I'll be Lady Keith again
That day oor King comes ower the water.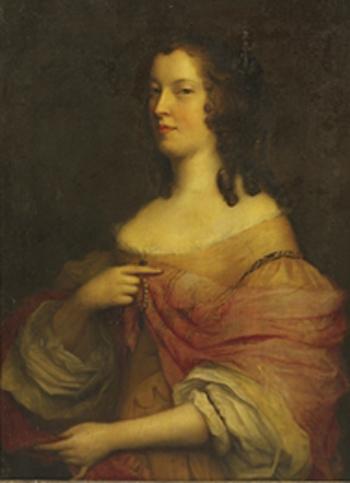 Lady Keith by John Michael Wright
1. Ah, je m'échine à tourner un rouet
Et je vis en une humble chaumiè_re.
Pensant à chaque jour ainsi passé,
J'ai les yeux pleins de larmes amè_res.

S'avilir devant un traître étranger:
De cette honte à dessein je me prive
Quel hy_mne de joie j'e_ntonne_rai,
Le jour où notre roi foulera ces ri_ves! (bis)

2. J'ai pu vivre encore ce temps béni
Où nos chefs fiers se couvraient de gloire
Nul alors n'était ni Whig, ni Tory.
Les rois Stuart écrivaient notre histoire.
Bien que le poids des ans pèse sur moi,
Que mes cheveux n'aient plus leur teinte vive,
Je danserai jusque après minuit,
Le jour où notre roi foulera ces rives.

3. Ce beau jour, puissé-je encore le voir,
Lui que j'appelle de mes prières.
Et l'on me verra danser jusque au soir
Délaissant les tâches ancillaires,
Pour celui qu'ici je ne nomme pas
Qui l'abeille de la ruche délivre;
Vêtue de ma robe d'apparat,
Le jour où notre roi foulera ces rives.

4. Ah qu'ils soient maudits, tous ces Whigs sournois
Tous ces pleurnicheurs, fourbes cyniques,
Cette bande d'écornifleurs matois,
Ces coeurs noirs sous des airs magnifiques!
Car ma mère était Comtesse, de lords,
Par mon père aussi ma race dérive.
Et je serai Lady Keith encor,
Le jour où notre roi foulera ces rives.

(Trad. Ch.Souchon (c) 2004)