LITTLE CELIA O'CONNELLAN

Sung by William O' Leanàn

1. Alone, at red dawn early,
I stood within the island bowers,
"Where Leam'an's [3] stream flows pearly
'Mid wavy grass and brilliant flowers,
Green earth gave fruits, unchary,
And crimson wines they over-ran
For me, from nymphs of Faery,
Like Sile ni Connellan!

.......

11. I thought to win her graces,
And love-smile on that rosy morn,
In those green islet places
Beneath the shady forest thorn.
But she vowed with fiery fervour
To never grant her love to man,
Till rose her Strong to serve her,
Bright Sile ni Connellan!

12. "No foreign tyrant lover,
Nor slave who bends to him the knee,
Till judgment-day be over,
Need hope to win a smile from me!
I'll brook not lord in age, or
In youth, of whatsoever clan,
Till come the Gael to wage war
For Sile ni Connellan!

13. "Then books and bards shall flourish,
And gladness light the looks of all,
Then gen'rous knights shall nourish
Our olden fame of open hail.
Brave men and chiefs to lead them
Shall flash their spears in valour's van,
And glorious days of Freedom
Crown Sile ni Connellan."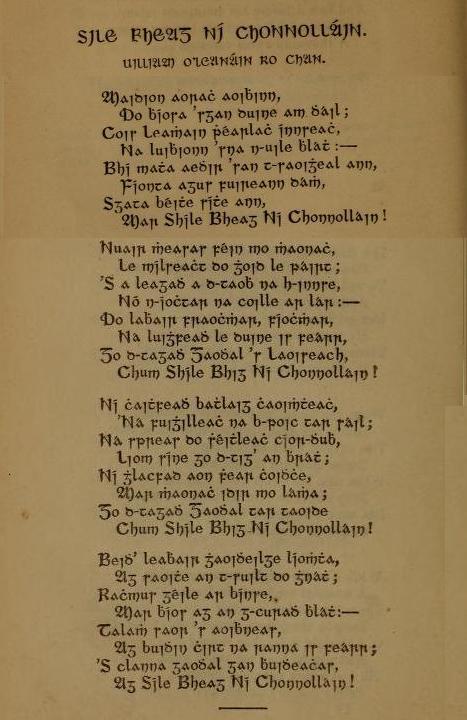 LA PETITE CECILE O'CONNELLAN

Chantée par William O' Leanàn

1. Quand se levait l'aurore,
Dans la tonnelle j'étais seul.
De l'eau glissait ses perles
Parmi l'herbe ondulante et les fleurs.
La terre en abondance
M'offrait ses fruits et ses rouges vins,
Présents de fées charmantes,
Comme Cécile O' Connellan!

.......

11. J'étais sûr de lui plaire
Et de voir son sourire radieux,
Dans la verte clairière
A l'ombre des bois épineux.
Elle jure avec fièvre
Que jamais elle n'aimera
Qu'un guerrier qui la serve
Fière Cécile O' Connellan!

12. "Nul suppôt tyrannique,
Et nul esclave de l'étranger,
Tant que ce monde existe
N'aura de moi sourire ou baiser!
Ni Lord courbé par l'âge,
Ni jeune de quel clan qu'il soit,
Si le Gaël n'engage
Son épée pour lutter pour moi!

13. "Alors livres et bardes
A tous feront mine réjouie
Et notre antique gloire
De nouveaux hauts faits sera nourrie.
Soldats, chefs intrépides
Brandiront leur lance à l'avant.
La liberté couronne
Ton front, Cécile o' Connellan!"

Traduction: Christian Souchon (c) 2013