Chorus:

Come o'er the stream, Charlie
Dear Charlie, brave Charlie,
Come o'er the stream, Charlie,
And dine wi' McLean! [1]
And though you be weary,
We'll make your heart cheery,
And welcome our Charlie
And his loyal train!
1. We'll bring doon the track deer
We'll bring doon the black steer
The lamb from the breckan
And doe from the glen
The salt sea we'll harry
And bring to our Charlie
The cream from the bothy
And curd frae the pen
Chorus:
2. And you will drink freely
The dews of Glen Sheerly
That stream in the starlight
When kings do not ken [2]
And deep be your meed
Of the wine that is red
To drink t'your sire
And his friend, The McLean!
Chorus:
3. O'er heath-bells shall trace you
The maids to embrace you,
And deck your blue bonnet
With flowers of the brae;
And loveliest Mari
In all Glen McQuarry
Shall lie in your bosom
Till break of the day. [3]
Chorus:
4. If aught will invite you,
Or more will delight you,
Tis ready, a troop of
Our bold Highland men
Shall range on the heather
With bonnet and feather
Strong arms and broad claymores,
Three hundred and ten!
Chorus: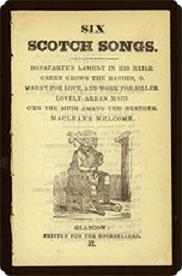 In this "Chapbook" (c. 1840),
the song appears along with 5 other ballads:
Bonaparte's Lament in his Exile, Green grow the Rashes, etc...
Refrain:

Franchis la rivière,
Cher Charlie, fier Charlie,
Franchis la rivière,
Dîne chez McLean! [1]
Oublie ta fatigue,
Et que se dérident,
Tes traits, noble guide,
Viens, toi et les tiens!
1. Que veux-tu? La biche
Qui fuit, la génisse,
L'agneau des fougères,
Le daim du vallon?
Le fruit de nos pêches.
Qu'on sale et qu'on sêche
La crême qu'on lêche:
Le lait des burons!
Refrain:
2. Tu boiras sans voiles
Le jus de Glen Sheelie
Né sous les étoiles
A l'insu des rois! [2]
Qui verse l'ivresse
Aux buveurs qui portent
Un toast à ton père,
Un toast à McLean!
Refrain:
3. Parmi les bruyères
D'accortes bergères
Viendront toutes fières
Orner ton bonnet;
La jolie Mari,
Fleur du Glen McQuarry,
Passera la nuit
Seule à ton côté. [3]
Refrain:
4. Accepte l'invite!
Rien ne peut te plaire
Comme l'accueil sincère
Des fiers Montagnards,
Rangés sur la bruyère,
L'arme en bandoulière,
En main leur rapière,
Trois cent dix gaillards!
Refrain:
(Trad. Ch.Souchon(c)2003)